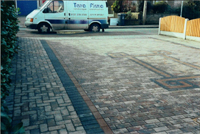 Driveways
Terra-Firma can offer a wide range of driveway surfaces ranging from a simple gravel driveway to a block paved surface which could consist of standard Eaton 60mm blocks to pave-stone (three or four sized) random tumbled blocks or clay blocked pavers.

We can also offer red or black tarmac which maybe surrounded by a brick on concrete edge, if so desired.

All driveways from excavation basis, have all spoil removed from site and will be prepared with "Type One" MOT road stone foundations.

Should you already have purchased your materials elsewhere, we will also work on a fit only basis if required.